This entry was posted on 31 October 2022 in Chicken Coops, Keeping Chickens.
Chickens are hardy creatures, but even they will require a little bit more care and attention as the seasons begin to change. Autumn and winter bring colder, wetter weather, shorter days and more adventurous predators, so it's important that you are working around the 'cluck' to make sure your flock is prepared. If you're unsure of what jobs you can be getting on with to get your flock ready for autumn and winter, our checklist is here to help.
At Cocoon Chicken Coops, we manufacture a wide range of high-quality chicken coops and accessories to help keep your chickens safe, comfortable and secure this autumn and winter. No matter if you're a beginner poulterer or a seasoned pro, you can be safe in the knowledge that you are in the hands of an experienced team that have your flock's interests at heart.
The Ultimate Checklist For Keeping Your Chickens Safe This Autumn
Now we've got our introductions out of the way, it's time to get to the nitty-gritty. Here is our comprehensive checklist to make sure your chickens remain safe and comfortable this autumn and winter.
Caring For Moulting Hens
Chickens will begin their annual moult when the daylight hours begin to get smaller. During this process, they will require some extra care and attention to make it as comfortable as possible. Their stress levels should be kept to an absolute minimum, meaning you shouldn't move them into a new coop or introduce any new members to your flock. You should also try to handle them as little as possible as it can be quite painful, and increase their feed levels to accommodate the extra protein that will be needed (more on that below).
Increasing Their Protein and Calcium Intake
It's important that your hens get the correct nutrients during the autumn and winter months. When moulting, your hens will require extra nutrients such as protein and calcium to make sure they can grow their new plumage. Extra feed such as mealworms, green vegetables and seeds are great sources of protein for your chickens, so make sure you're treating them every so often!
Checking The Security Of The Coop
During the autumn and winter months, food becomes harder to find for predators, leading them to expand their usual hunting behaviours. This usually means they're more likely to try and snatch an egg or chicken from your coop. Make sure your coop security is up to scratch by repairing any mesh flooring and making sure all panelling and chicken wire are nice and secure.
Cocoon Chicken Coops manufactures high-quality fox-proof chicken houses to keep your flock safe this autumn and winter. Our houses combine excellent quality woodwork with extremely secure locks and latches to keep your chickens in and predators out.
Forget a Spring Clean… It's Autumn Clean!
A tidy coop is a happy coop, and an autumn clean is a perfect way to make sure your flock is ready for the colder season. Clean the inside and outside of your chicken nesting boxes and coops and replace the bedding to give it a freshen-up.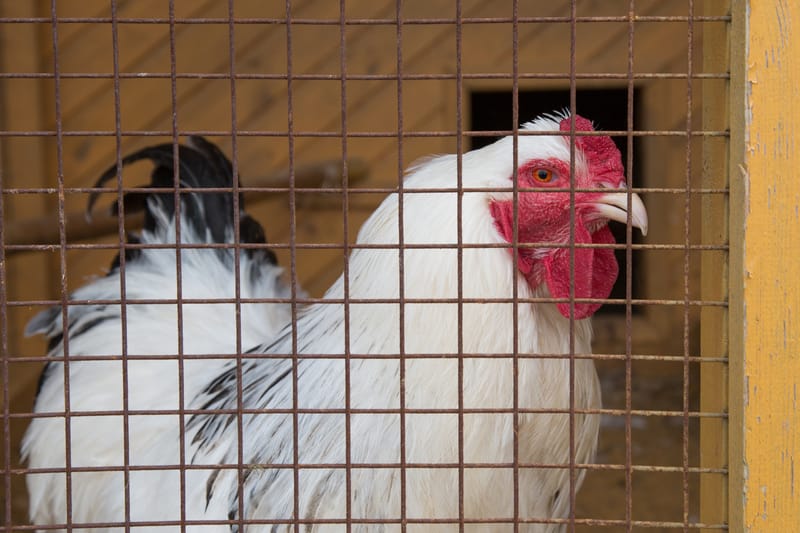 Additional Bedding
It makes sense to tie this in with your autumn cleaning, but your chickens will thank you for supplying a little extra bedding during the colder months. If your coop isn't heated, your chickens will need extra protection from the cold to avoid sickness – especially the older and weaker members of your flock!
Adding some extra straw or hay to your coop or nest boxes will help to keep things insulated, but remember to replace it more frequently as it can absorb moisture and be a good home for pathogens and bacteria. Alternatively, add some shredded leaves to your coop or even some scrunched-up paper for a cheap option. Just make sure any leaves are dried properly beforehand and the paper is ink free.
Investing In A Rain/Winter Coop Cover
Even though your feathered friends are waterproof, too much exposure to wet weather can cause health problems and make for some pretty uncomfortable chickens. Respiratory illnesses and coccidiosis are two common illnesses that should be avoided, so it's essential to keep your flock as dry as possible.
By investing in a waterproof cover for your coop, you can be sure to keep the water out during wetter periods. A waterproof cover will also help to keep your chickens warm when the temperatures begin to drop.
Contact Cocoon Chicken Coops Today
Here at Cocoon Chicken Coops, we have a range of coups and accessories that can be used to make winter more comfortable for your flock. To make an enquiry about our selection of products, contact a member of our team today. Visit our contact page to submit an enquiry form or call us on 01273 978 487.